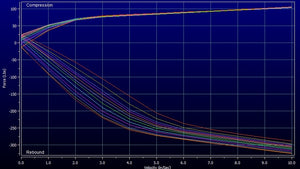 What makes us different?
There are thousands of different coilover kits out there on the market. So what makes us different? 

For one, we only build custom spec orders for our customers. We start from the ground up and cater it towards the customer. Now you are probably thinking, well a lot of companies do that as well. What makes yours even more special than that?
Well, as a shock builder I am also a driver. That means I've tried a myriad of different valving philosophies and designs over the years to know what seems to work well and what their limitations are. I've tested the mathematical computations that generate certain curves and have found hundreds of different ways to achieve those very same curves. Yes, two identical shocks graphed on the dyno can feel different because of the way the shims are assorted.

I feel its important to be able to feel what you build in order to see if that style of valving will cater to what your customer base is looking for out of their shocks. 

Built by a racer, for racers.
---